May 4, 2019
W.O.W Ministry's Mother and Daugher Brunch More info ►
Saturday, May 04, 2019, 11:00 AM - 3:00 PM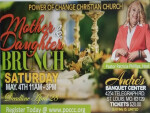 Pastor Patricia Phillips and the W.O.W. Ministry are happy to host the Mother and Daughter Brunch this Spring. We are so delighted that you opted to join us for this monumental day!
Registration is now closed. Please provide your email address below to be the first to know about upcoming W.O.W. Ministry Events.
We look forward to connecting with you really soon!